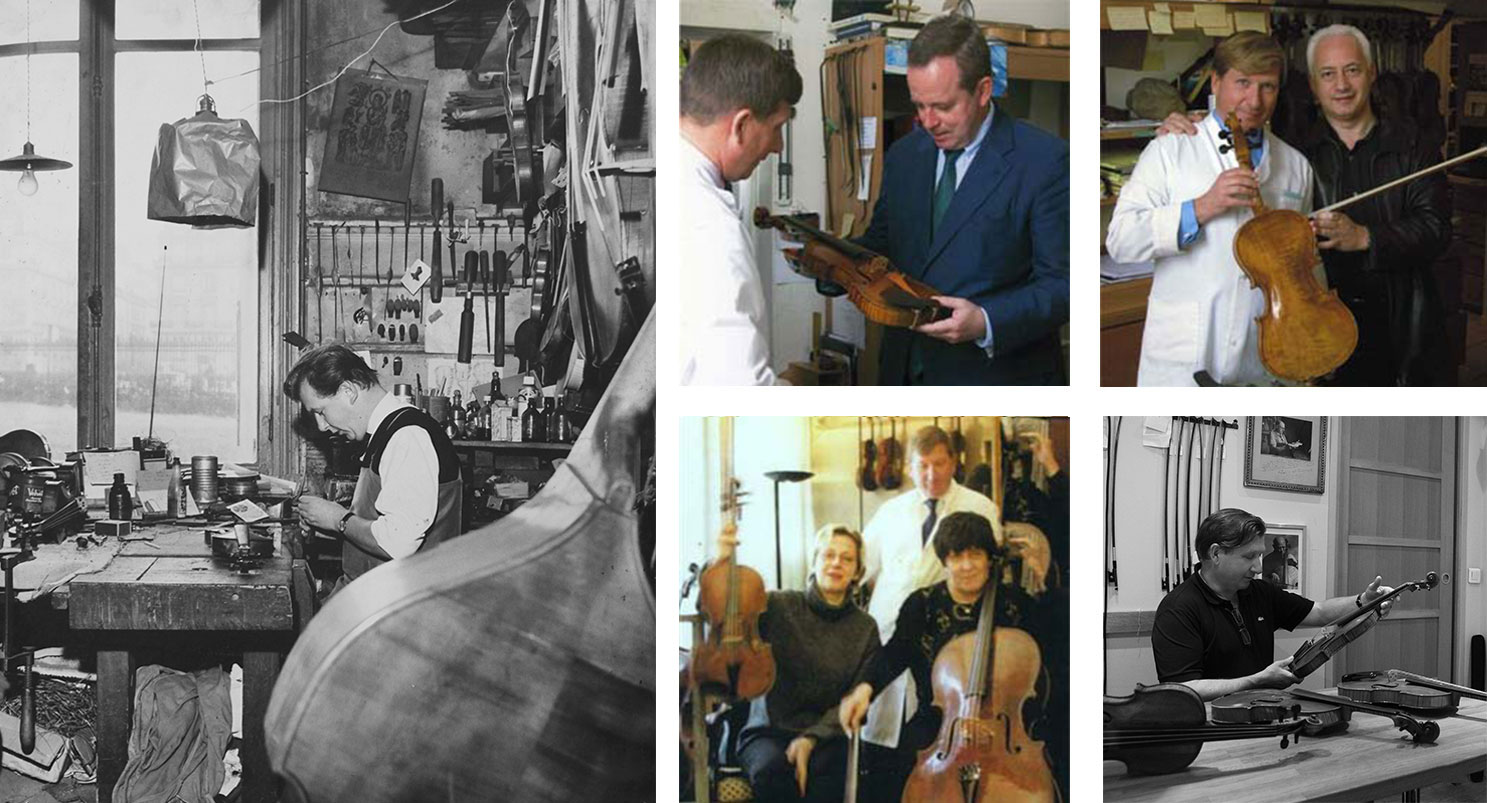 Born November 15, 1955 in Paris, he is the youngest of a family that has been making their living out of music for several generations. Son of a violin maker and grandson of musicians of the comic Opera and the Opera, he has been living in this surroundings since his young age. The workshop being near the house, he spends there most of his free time without having though the idea of a career in violin making.
September 1971, at the age of 15 1/2 years, he leaves Paris for the French capital of French violin making , Mirecourt. His choice is still uncertain but two possible professions were predestined to him: violin maker by filiation or fisherman out of passion for the sea.
He begins his apprenticeship in Mirecourt with the Master Jean Eulry, a great violin maker crafstman and co-director of the House Hilaire since nearly 20 years.
It is a workshop working in the purest French tradition. Jean Eulry was the training Master of a great number of violin makers practicing today. He was recognized rightly as Great Master of training.
He has 3 months to make a choice, the deadline is Saint Cecile's day, in November which is the date the violin makers are accustomed to meet in Mirecourt to celebrate the Patron Saint of music. Thus his father will easily know  through his colleagues his predispositions to the bench. He remains in Mirecourt until 1974 where he learns how to use his tools as the old persons say. During these 3 years he makes about fifty violins.
September 1974, he returns to Paris to work alongside his father. The reality of the Parisian houses seem quite far from the atmosphere of Mirecourt. He gradually learns old instruments restoration.
He shares with his father the pleasure of manufacturing and copying instruments of the great Italian Masters.
This collaboration lasts until December 1975.
1977: He goes to London to work in Charles Beare's workshop, well known for his high level of restoration of instruments of great masters. Charles Beare is himself a great expert in violins and shares with him his knowledge during 2 years.
In 1979, back in Paris, he returns to the family workshop to assist his father in restoration and expertise. The reputation of the House is based on these two specialties and the requests for expertise become regular. Many instruments come past the workshop improving his eye day after day.
1984: his father decides to give me his place and he creates the Boyer Company.
From this date, the rhythm accelerates: in 1987 he is named assessor by the French customs in the speciality "musical instruments". In 1988 he does his first auctions as an expert.
1991: He is appointed expert at the Court of Appeal of Paris.
Great missions are entrusted to him: Expertise of orchestras, missions for the Courts, assignments for the insurance companies. He also organizes regularly auctions.
His documentation, which is growing richer a little more each day enables  him to publish in 1993 a book on the French school: "Treasures of the French violin making of the 19th century",  prefaced by Charles Beare and Etienne Vatelot.
Since 1988 and until today, he has succeeded in taking his place in the sector of high restoration including instruments of prestige such as Guarneri Del Jesus, Stradivarius, Guadagnini, Lupot, Pressenda as well as in the field of valuation.
Thanks to his knowledge and his professional competence he can today  count among his customers the greatest soloists such as Vladimir Spivakov, Vadim Repin, Natalia Gutman, Maxim Vengerov, Roland Daugareil, Henri Demarquette, Patrice Fontanarosa, Sylvie Gazeau…
Today history repeats itself: he accompanies his son Florent who is gradually taking the same path as him.