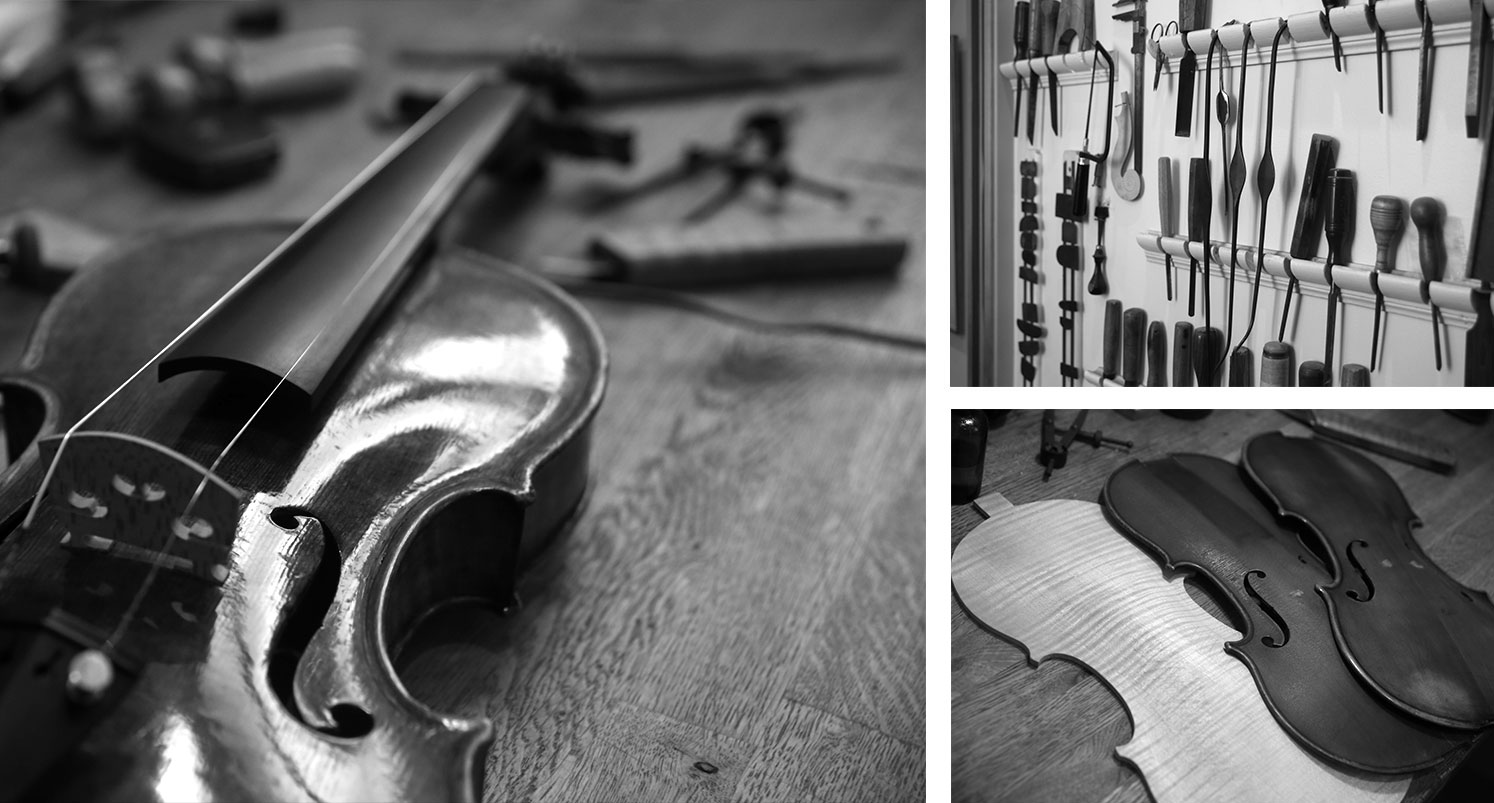 Our house created by Charles Enel in 1911 quickly becomes a reference in restoring quartet instruments. Important instruments are entrusted to him  (Stradivarius, Guarnerius, Guadagnini) by French and international soloists (Ysaÿe, Casals, etc …). Moreover, he becomes the official violin maker of several French orchestras who come to have their instruments maintained.

In the same commitment to excellence, we perform all types of repairs and restorations to optimize and sustain the instruments in time
We accompany musicians in the most accurate adjustments to release the full potential of the instrument.
Having both followed a solid apprenticeship in Mirecourt (see biographies), the cradle of French violin making and having worked in workshops renowned for their expertise in restoration, Serge and Florent Boyer will provide high-end level restorations.
Instrument maintenance

Any musician during the year needs to have his instrument revised or adjusted. There are often unstickings of the edges, small splinters in the wood or movements of the soundpost. Daily use sometimes requires retouching of the varnish or adjustments of the instrument.
The bow requires a regular rehair in case of daily use.
Restoration
An accident due to a fall or a shock to the instrument often requires the intervention of the violin maker. We restore any type of instrument whether it is for study or belonging to a great master. Some restorations necessitate the opening of the instrument and sometimes the replacement of the damaged part. The wear of the instrument due to the fact it is played daily sometimes requires to replace one or more parts that have become too small or uncomfortable for the musician.
High restoration
It consists in full restoring of a violin, viola or cello which over time has suffered major damage.
This work that can sometimes take months consists in working on all parts of the instrument. Cracks, linings, woodworms damages, neckgraft, arching to be reformed, varnish to treat are part of the long and difficult processes that we undertake on instruments whose value permits it.
The principle is to try to keep a maximum the original parts in order to best preserve the value of the object. Some high restorations thus allow the re-value of instruments considered unusable without any market value in its state.