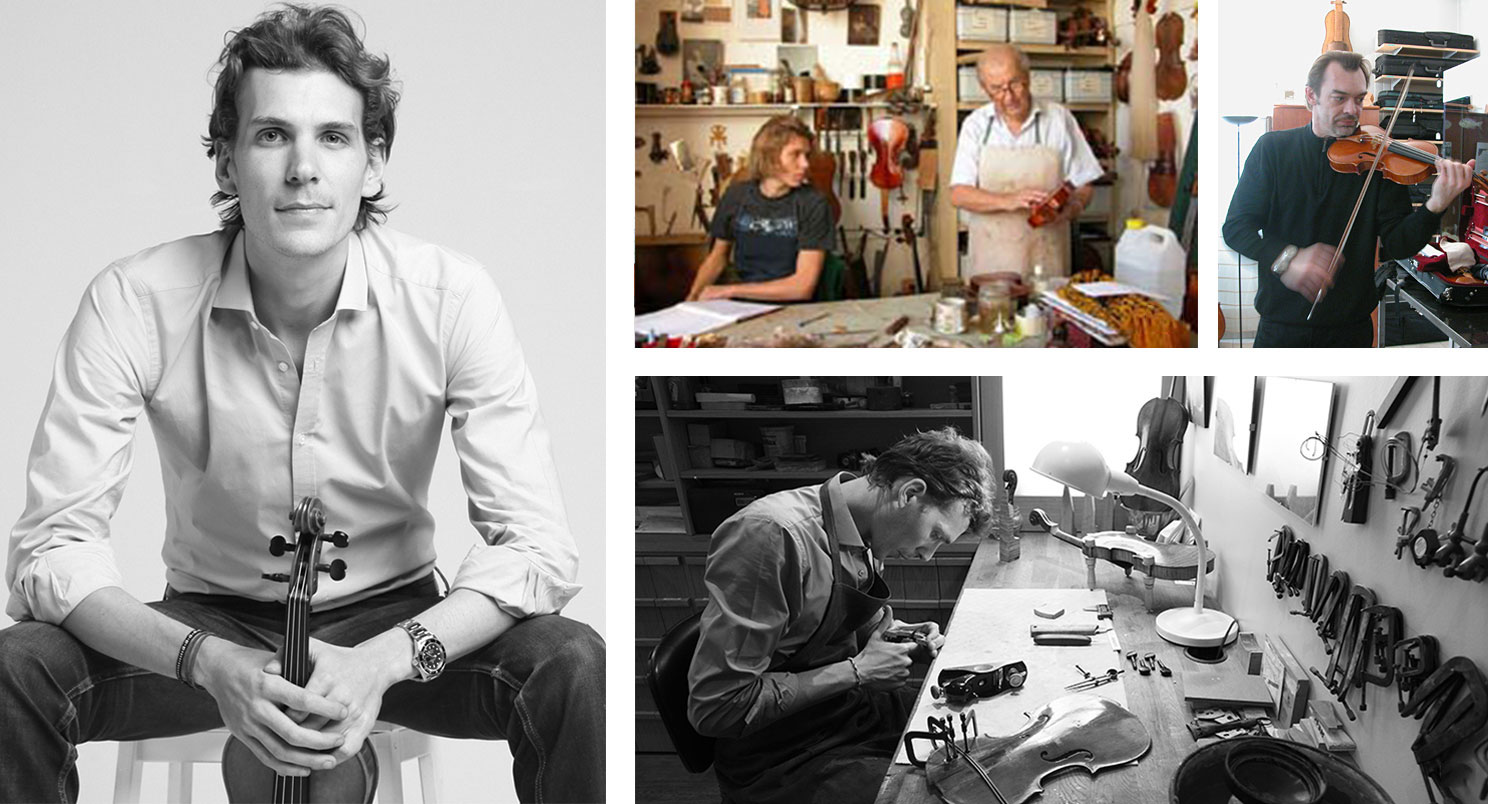 Born in 1983, Florent spends all his time at the workshop, curious to see his father and grandfather shaping pieces of wood. After general studies and a high school diploma in sciences, he thinks moving towards an architectural curriculum but a very strong feeling draws him to the manual trades.
2003: He begins his apprenticeship in Mirecourt at Jean-Jacques Pagès International School of Violin making. During two and a half years he builds about thirty instruments (violins,violas, cellos). He does this sandwich course working one week a month in the family workshop to assess all the other tasks of the great houses. He particularly appreciates the trade and the relationship with customers. He also learns the secrets of varnishing with his grandfather Frederick.
Unfortunately, Florent will not benefit long his grandfather's tips who gets seriously ill in 2005 in the midst of his learning.
He ends his cycle in Mirecourt in Roland's Terrier workshop from September 2005 to March 2006 to learn the assembly of instruments.
2006/2007: He returns to Paris to start his apprenticeship in the restoration of old instruments by his father. It also does various training courses abroad in Cremona, London, Amsterdam, Hong Kong and Portland.
Willing to make his profession step into the 21st century he sets up his online rental company of musical instruments , LOCASTRAD, in 2006
2007/2009: He goes to New York to improve with the French violin maker Christophe Landon, known for his high level of restoration of old instruments.
2009: He returns to the family workshop to partner with his father and perpetuate his workshop. He practices valuation daily and has a strong liking for the adjusting of instruments. He travels regularly to the major capitals with his set of tools to offer adjustings and restorations.
2014: He participates in the creation of Violin-finder.com, a website that allows sellers and buyers of quartet instruments to be put in contact.
2016: He is working on a new project with his father in the valuation field…