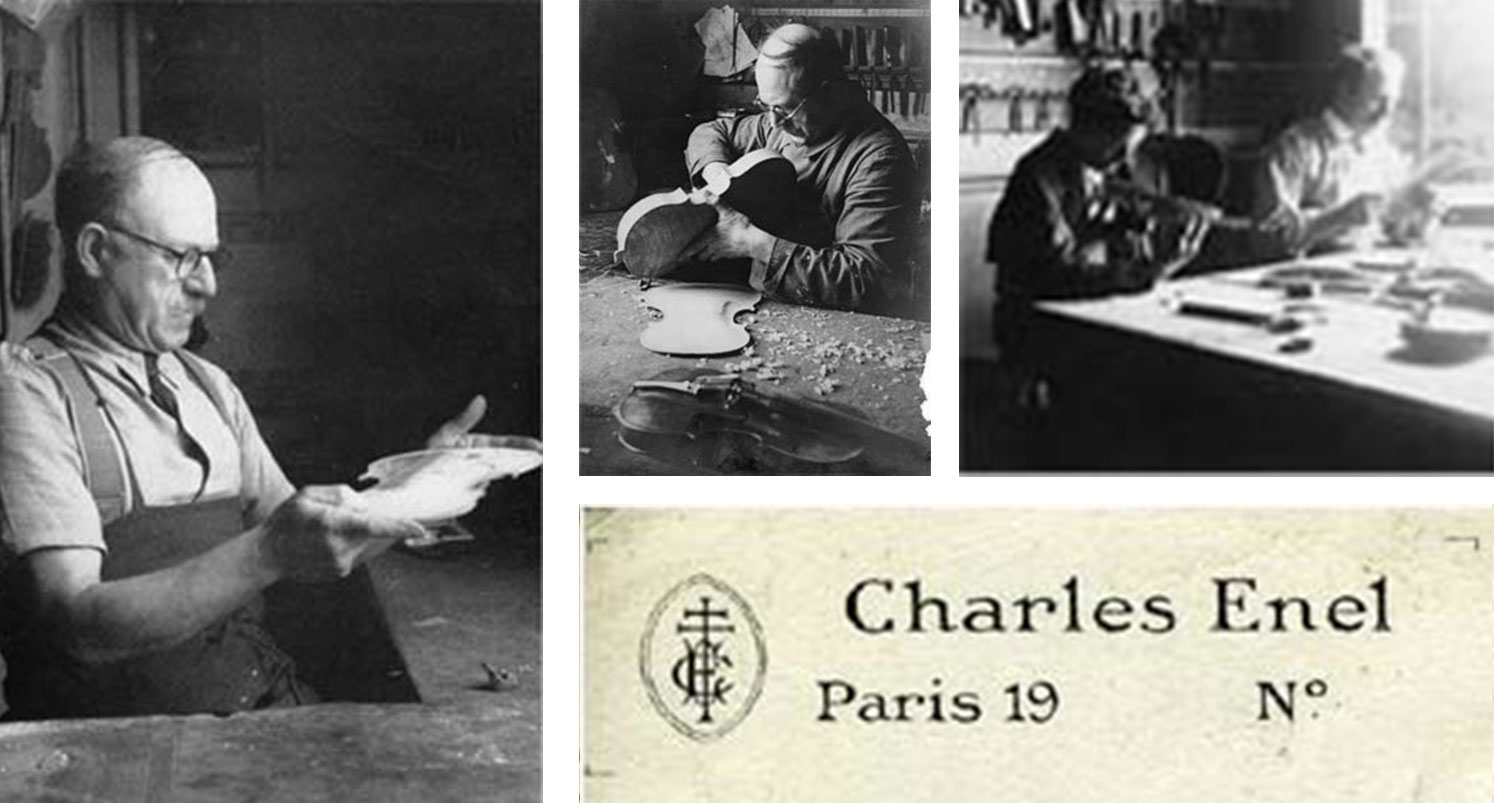 Son of Jules Enel and Louise Vigneron (family of the famous bow maker Arthur Vigneron), he was born July 14, 1880 in Mirecourt (Vosges).
He apprenticed in the workshops of Grillon, Gustave Bazin and joins as a worker Léon Mougenot, a very renowned house in Mirecourt.
Very quickly and before his bench skills, he obtains the worker state diploma from the Departmental Jury. He moves to Paris and joins the workshop of Auguste Deroux, himself a former first worker of the famous Claude-Augustin Miremont House.
At his return from the military service, he goes to Geneva at Bertherat's, then to Lyon and returns to Paris at Eugene Marchand's. Linz in Austria, Augsburg and Stuttgart in Germany and finally in Geneva at Vidoudez (Switzerland) making his learning a real journey of mentoring.
It is in the Geneva workshop that Ernest Maucotel (associated with Hippolyte-Chrétien Silvestre) picks Charles Enel. That proves the craftsman he was, Silvestre and Maucotel House being at the time one of the most prestigious Maisons de France.
1909: Aged just 29, he moves to Rue de Cléry Paris, not far from his cousin, the great bow maker Arthur Vigneron.
1911: He transfers his workshop to 48 rue de Rome in the 8th district of Paris. He appoints Felix Bollecker to take care of the commercial part of the business under the name "Charles Enel and C°". This collaboration is interrupted with the war of 14-18, which both participate in.
Charles Enel is in permanent search of models which leads him to copy with talent the greatest Italian creators of the 18th century, the woods are always well chosen, his varnishes, is red transparent, sometimes a little cracked. He builds some 220 violins, 30 cellos and some violas.
1920: He brings in his nephew Pierre Enel who will remain until 1934 to assist him in high restoration.
1947: He is vice president of the Group of Violin and Art Bow Makers of France (GLAAF).
1948: Charles Enel is named Expert to the Commercial Court of the Seine in the specialty of the quartet instruments.
Frédéric Boyer joins the workshop as a worker in August 1948.
1949: He becomes one of the founding members of the International Society of Violin and Bow Makers (EILA), the elite of the world violin making.
1954: Charles Enel dies in Saint-Brieuc.  Frédéric Boyer, who has become his main collaborator and spiritual heir continues by himself the management of the workshop.  Mrs Céleste Enel, Charles Enel's wife is responsible for customer relationship.
1960: After 12 years in this prestigious house, and following the sudden death of Madame Enel, Frédéric Boyer will continue alone and will ensure the continuity of this house.
SOME OF
CHARLES ENEL'S VIOLONS