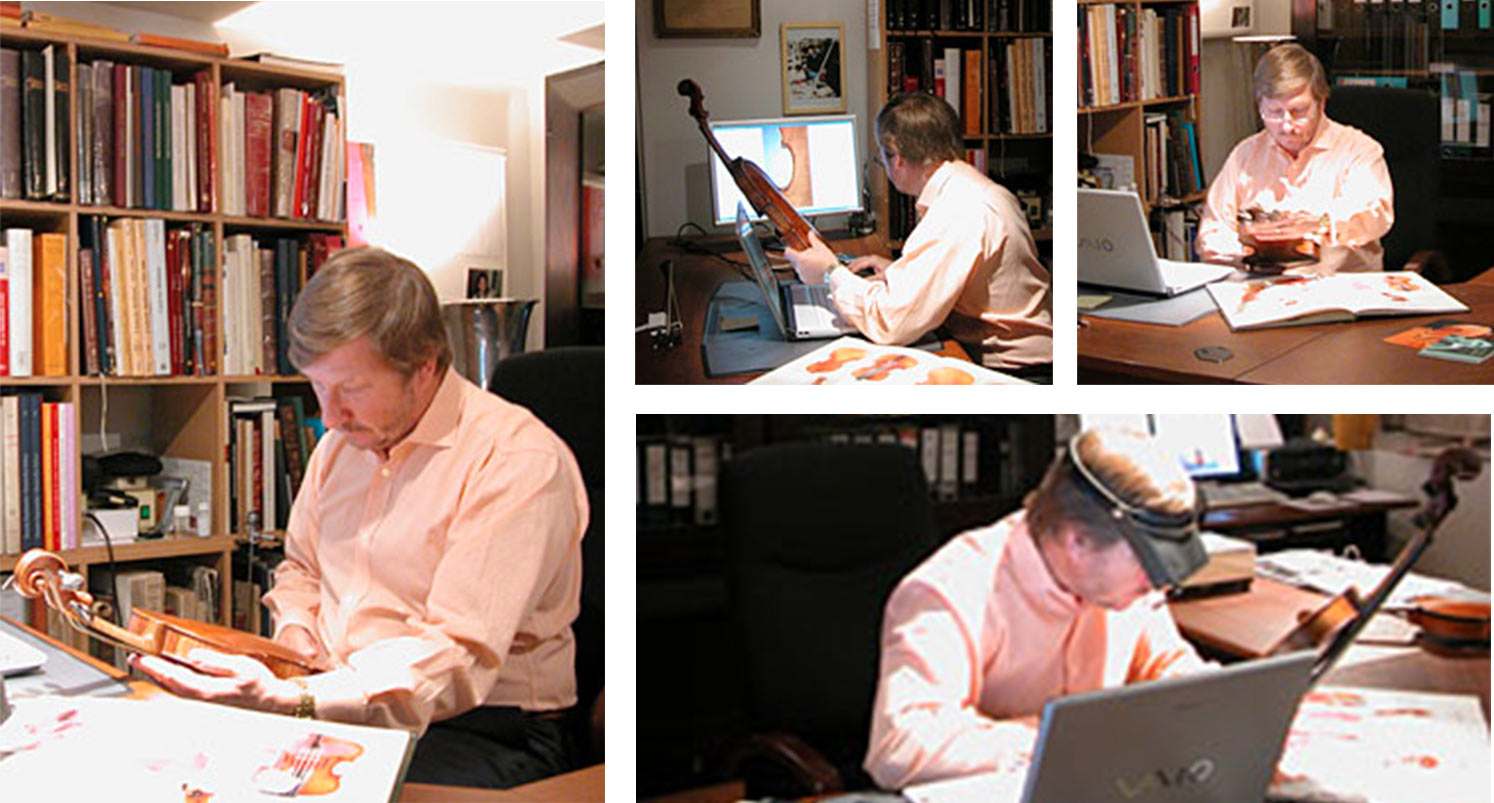 Oral valuations are free if Mr. Boyer does not need to keep your instrument at his office.
If he  keeps your instrument, you have several options:
Oral valuation : Following the analysis of the object, the expert receives you during an appointment and informs you orally of the origin of the instrument. Please note: no document other than the invoice will be issued after this consultation. 

Price: €100 (excl.tax) per item
Request a certificate of authenticity : This document certifies the origin of the instrument. Its validity in France is 12 years. Photographs of the instrument stamped with the seal of the expert are joined to the document. Please note: this document must be issued by an accredited expert to a court. Any certificate signed by a company or unauthorized persons will have no legal value in case of dispute. Price: 5% excluding tax of the estimated value of your item. (No certificate for instruments less than € 2,000)
Request a certificate of value : In addition to the certificate, the certificate of value is an official document indicating the commercial value of your property on the date of its signature. Photographs of the object are joined to the document but no description of the object is reported. This document has no expiry period.
Request a insurance certificate : This document identical to the certificate of value is requested by the insurance companies at the time of the writing out of the insurance contract. It represents the value of "replacement" of your property in case of accident or theft. It can be updated, following the requests of your provider. In the event of an accident or a theft, this document will be demanded by your insurance company as a basis for calculating the reimbursement of the instrument or its restoration and the possible application of a depreciation.
          Fees for a certificate of value or insurance:
| | | |
| --- | --- | --- |
| Value of the instrument | First certificate or new customer | Re-evaluation |
| Less than €2,000 | €100 | €50 |
| Between €2,000 and €5,000 | €175 | €85 |
| Between €5,000 and €10,000 | €350 | €175 |
| Between €10,001 and €20,000 | €550 | €275 |
| Between €20,001 and €100,000 | €750 | €500 |
| Above €100,000 | 1% of the value (excl.tax) | €500 (incl.tax) + 0.5% between the previous and the new certificate |
The Company BOYER is insured by the company HWI France, 73 boulevard Haussmann 75008 PARIS attached to LLOYD'S (United kingdom) for any object left at the BOYER Company whatever its value.
In the event of an accident the photographs we take allow to prevent any problem or misunderstanding that may arise. Feel free to contact us for more information.